How To Decorate The Interiors with Silk Curtains?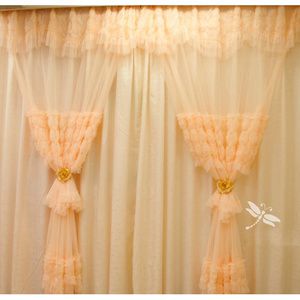 Silk is one of woven material with very shinny surface and super soft smooth hand touch feeling. In my opinion silks are best for curtains making cause of its good light transform quality allowing light go through the fabric enter the room to bright the inside home.
With good design idea, silk curtains absolutely can warm the room and make room more elegant, which also being an beautiful view in the room when using for interiors decoration. Silk fabric freshen up the room natural. If you want to have a lively but natural style, all the decors or furniture in your room should be based on nature.
With a bamboo bed
To enjoy countryside natural living, tray a bamboo bed in the bedroom and then decorated with light green silk curtains hanging on in the front of the window instead of blue curtains to gain a classic look for home decoration. Light green silk curtains would not take place the silk curtains but make it more elegant to gain a cozy comfortable room.
Can protest privacy
Blue and green silk curtains can protest privacy safely using for interiors decoration. They can be hung from the ceiling down to the floor to make room look bigger. Curtains is the most important decor in a room, so the more simple the wall, the more beautiful the room is. Painting room in light peach-white color to freshen up the room. If there is small room, place bamboo bed in the center of the room, using curtains to bright the room. Both blind and fabric curtains are good for bedroom decoration.
Bedroom is that place where we take rest after a long day work should be comfortable and peaceful as much as it can, so silk curtains for bedroom makes room look more bigger and the soft smooth silk fabric quiet the room peacefully that best for good sleep. Why not have a try to enjoy a special feeling?